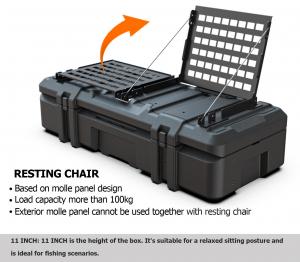 Here's a chill-out chair you can attach to the box's exterior. It's the perfect height for comfortable sitting, and it can hold up to 100kg.
We've also designed operating table accessories for the four scenarios. They're adjustable for sitting and standing, and we've added marine-grade tabletops for cooking. They're easy to clean, and there's a drainage port.
Expand Your Outdoor Adventures Melipron MGS Cargo Case Up to 25 Accessories.
NT, HONG KONG, CHINA, November 11, 2023 /EINPresswire.com/ — MELIPRON, a leading outdoor gear company, is excited to announce the launch of their latest product on Indiegogo – a multi-functional gear box designed by a team of young and innovative designers. This gear box comes with 25 additional accessories, making it the perfect companion for all your outdoor adventures.
The MELIPRON gear box is designed to cater to the diverse needs of outdoor enthusiasts. It features both internal and external molle boards, allowing for expanded storage options. In addition, the team has also designed a molle board seat kit, perfect for resting during fishing trips. The ergonomic design of the gear box ensures that every section is at the perfect height for easy access and use.
"We are thrilled to introduce our latest product on Indiegogo, designed by our talented team of young designers. We understand the needs of outdoor enthusiasts and have incorporated their feedback to create a gear box that is versatile, durable, and practical," said the spokesperson for MELIPRON. "We are confident that this gear box will enhance the outdoor experience for our customers and we are excited to see it in action."
MELIPRON is known for its high-quality and innovative outdoor gear, and this gear box is no exception. With its multiple functionalities and sleek design, it is set to become a must-have for all outdoor enthusiasts. The Indiegogo campaign for the gear box is now live, and backers can avail of early bird discounts and other exciting perks.
For more information on the MELIPRON gear box and to support the campaign, please visit the Indiegogo page. Join us in applauding the young team at MELIPRON for their dedication and hard work in creating this exceptional product.
Anne
MELIPRON
+1 908-616-4173
[email protected]
Visit us on social media:
Facebook
Instagram
YouTube
We are thrilled to announce that Melipron MGS Cargo Case has officially launched on Indiegogo!


Originally published at https://www.einpresswire.com/article/667792300/melipron-launches-multi-functional-gear-box-on-indiegogo-designed-by-young-team-of-designers